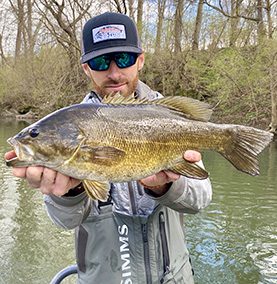 Jake Villwock has been an industry professional for over 14 years. Growing up in a commercial fishing family on the Eastern Shore of Maryland, fishing has been part of his life from day one – so it should come as no surprise that he has chosen a career in the fishing industry.

After graduating from High Point University with a business degree, Jake worked as a deck hand and fly fishing guide in Sitka, Alaska. He spent the winters dog sledding in both Fairbanks, AK and Deep Creek, MD. Moving back to the east coast in 2009, Jake worked for TCO Fly Shop at the Reading, PA, and Bryn Mawr, PA locations. Jake has helped open and manage their newest location in Boiling Springs, PA. After 8 years as a full-time retail manager with TCO, Jake decided to start his own business. Relentless Fly Fishing, which will serve as a contract guide service for three of TCO Fly Shop's locations.

Jake guides in PA and NY for trout, smallmouth, and steelhead. He has a true passion for warm water, it is hard to find him anywhere but a smallmouth river from early spring to late fall. When he is not rowing a boat, he is most likely crawling around a local spring creek chasing picky wild fish.

In addition to guiding, Jake is the author of "Smallmouth Bass Flies Top to Bottom", contributing author for Fly Fisherman Magazine, and Eastern Fly Fishing magazine, Montana Fly Company Signature tier, blog-writer, and serves on various pro-staffs of leading industry companies such as Hatch Reels, Scientific Anglers, Simms Fishing, Clacka Craft Drift Boats, Scott Fly Rods and Regal Vise. He lives in Carlisle, Pennsylvania.