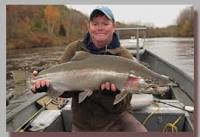 Kevin Feenstra started Feenstra Guide Service LLC in 1997.  He spent countless hours on the Muskegon River, and still fishes the river system and surrounding waterways every chance he can.  His passion is swinging flies for steelhead, but loves to fish for any predator fish that is willing to eat a fly. Year after year, Kevin guides the Muskegon River for hundreds of days and still loves it. He is a licensed USCG captain.
In addition to guiding, Kevin is an active writer and fly tier.  His most recent project is a book, Matching Baitfish, which was published in November 2020.  He also published several fly fishing DVDS, including Searching for Steelhead, Striking Steel, and Big Appetite, Small mouth.  Author of many magazine articles, his flies are published in fly tying manuals and magazines.  Kevin frequently speaks at fishing shows and clubs throughout the Midwest.
Kevin has one other passion, outdoor photography, where he hopes to capture the beauty and majesty of West Michigan both above and below the water. He resides in Newaygo, Michigan, with his lovely wife and three children.