Authors, Presenters and Tiers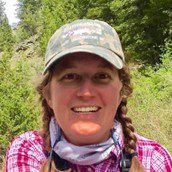 Alice Owsley was introduced to fly fishing at a young age on the spring creeks of Northeast Ohio. She moved out west after graduating from college to pursue a career in the fly fishing industry. Alice has been a licensed outfitter in Montana since 2004.  She currently operates Riverside Anglers guide service out of West Yellowstone, Montana.
Alice has been guiding for 15 years on the Madison, Henry's Fork and waters of Yellowstone National Park, teaching clients of all skill levels her trout catching ways. Alice also spent a season on the famed Naknek River of SE Alaska chasing King Salmon and large Rainbow trout. In 1999, she completed Joan Wulff's Fly Casting Instructor Course. She is a Simms Guide Ambassador and a member of the ClackaCraft pro staff.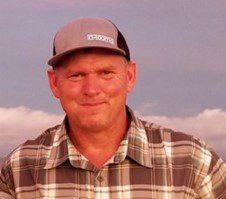 Mac Brown is the owner of Mac Brown Fly Fish and Fly Fishing Guide School in Western NC. Mac created the first full-time fly fishing guide service in Western North Carolina. The first Delayed Harvest on the Upper Nantahala River in early 1993 was also a result of his efforts.  He is the author of "Casting Angles" which is a fly casting handbook for those on the journey of understanding the mechanics of the cast. The ACA, FFI, and others have endorsed this text as a reference for instructors as well.  Mac is a Master Casting Instructor through the Fly Fishers International.
Mac was inducted into the Southern Appalachia Fly Fishing Museum Hall of Fame under recreation on August 26, 2017.  He was "Angler of the Year" in Field and Stream in 1999. His articles have appeared in Fly Rod and Reel, Fly Fisherman, Angling Report, ESPN TV, Outdoor Life, Field and Stream, Fly Fishing America T.V., Fly Fishing the World, and many others.
He is a pro staff member of Ross Reels, Simms, Maxima, and many other great companies since early 1990. He is an ambassador for the brands Patagonia, G. Loomis rods, Regal Vise, Richardson Chest Boxes, and Scientific Anglers fishing lines. His most significant contributions have been the push to longer and lighter fly rods and fly line designs.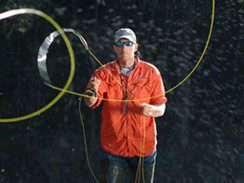 Michael Mauri is one of the world's outstanding fly casters.  He was born and raised in Germany. He caught his first fish at age six in a small stream in Bavaria and, six years later, began concentrating on every facet of the sport of fly fishing including education as a technical engineer of aquaculture.
Since 1998, Michael has participated in international shows and conducted single- and double-hand casting workshops around the globe. As a professional fly-fisher, he has guided throughout Europe and the United States. 
Michael is an innovator in all aspects of fly fishing and he created his own unique casting method, the Effective Fly Casting Technique or EFCT. The secret of EFCT fly-casting is natural movement which makes it easy to learn – whether a beginner, novice, or seasoned casting veteran. Don't miss an opportunity at shows or otherwise to join one of the most respected instructors in fly fishing and casting including all aspects of single-handed and double-handed spey casting and overhead casting.
Michael offers year around guided trips and fly-casting lessons in Stuart, Florida where he and his wife Emily live with their daughter Emma.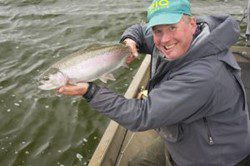 Philip Rowley has been fly fishing for over 30 years. His love of fly fishing has taken him across North America pursuing trout, Atlantic and Pacific salmon, char, pike, walleye and numerous other species on the fly. But Phil is best known for his stillwater exploits.
A former commercial fly tyer, Phil has written for almost every major fly fishing publication in North America. He has authored three books and numerous feature articles and two regular columns. Phil's first book Fly Patterns for Stillwaters is a best seller. In addition to his writing, Phil has four instructional DVD's. In 2007, Phil was a member of the gold medal winning team at the Canadian Fly Fishing championships.
When he isn't on the water Phil travels North America performing at outdoor shows, providing seminars, speaking to Fly Clubs and conducting fly-fishing schools. Phil also provides instructional stillwater guiding on the lakes located a short distance from his Edmonton area home.
Phil has appeared on a number of T.V. shows including, BC Outdoors Sports Fishing, Sport Fishing B.C., Fishing Alberta and Fishing with Shelly and Courtney. Phil is presently one of the co-hosts of the New Fly Fisher, an educational fly fishing production. Make a point of visiting Phil on-line at  www.flycraftangling.com.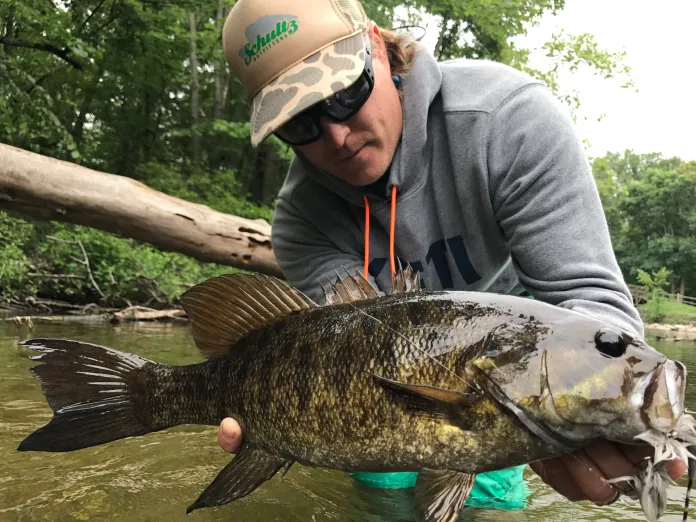 Mike Schultz (known as "Schultzy" to most) is the Owner of Schultz Outfitters Fly Shop & Guide Service, located in Ypsilanti, MI.  The shop specializes in Southern Michigan angling, instruction, and destination travel.
Born and raised in the State of Michigan, Schultzy has been immersed in the outdoors from an early age. After graduating from Eastern Michigan University with a Bachelor of Business Administration, he started guiding and working in the fly-fishing industry full-time.
Logging countless hours on the water each year, Schultzy has developed a vast knowledge of Midwestern waters and beyond. The bulk of his guiding and angling takes place on his home waters of Southern Michigan; These Rivers offer world class warm-water fishing. His angling travels have taken him from Patagonia to Russia and many places in between.
Over the years with the help of the Huron River Watershed Council, he founded the Huron River Single Fly as well as the Huckin' for the Huron. Both are annual fundraiser that takes place on his home waters of the Huron River, Michigan's Blue-Ribbon Smallmouth stream.
Mike is a Simms Fishing Products Pro Team, YETI, G Loomis, Airflo, and Nautilus Ambassador programs and is a member of the Costa, Clackacraft and Regal Pro Staff. His signature flies are available through Fulling Mill and Rainys.
He currently resides in Dexter, Michigan on the banks of The Huron River with his wife, Allie and sons, Tanner and Dylan.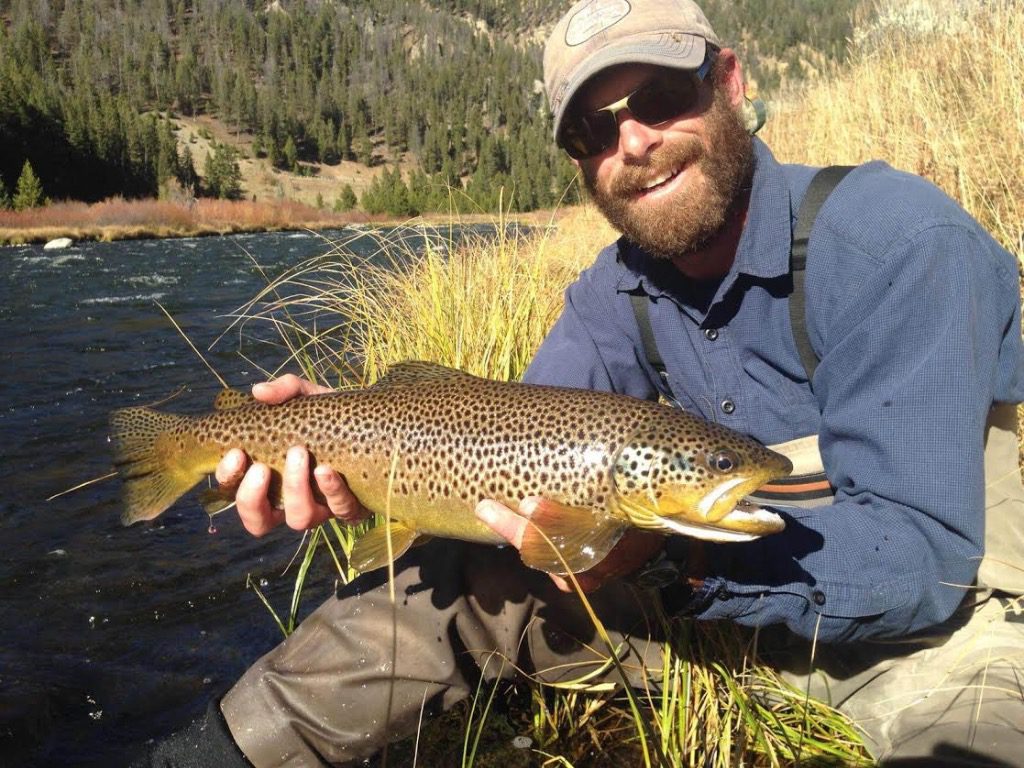 Mike Loebl began fly fishing at the age of 7 in his home state of Michigan, where he would later start his career in the industry at a fly shop in Northville. Fast forward to the present and Mike has been with MRO for the better part of the past two decades.  Mike has been instructing both single hand and two handed fly casting throughout his time at MRO.  He spends an excessive amount of time on the water trying new techniques and refining his approach to the river. 
As a guide, Mike loves to help his anglers hone their skills and teach folks how to be more effective fly fishers.  When not fishing, Mike can be found spending time with his wife Alice Owsley (also a fly fishing guide in the area) and their dog Norman.
He began fly fishing at the age of 7 in his home state of Michigan, where he would later start his career in the industry at a fly shop in Northville. Fast forward to the present and Mike has been with MRO for the better part of the past two decades. Mike has been instructing both single hand and two handed fly casting throughout his time at MRO. He spends an excessive amount of time on the water trying new techniques and refining his approach to the river.
As a guide, Mike loves to help his anglers hone their skills and teach folks how to be more effective fly fishers. When not fishing, Mike can be found spending time with his wife Alice Owsley (also a fly fishing guide in the area) and their dog Norman.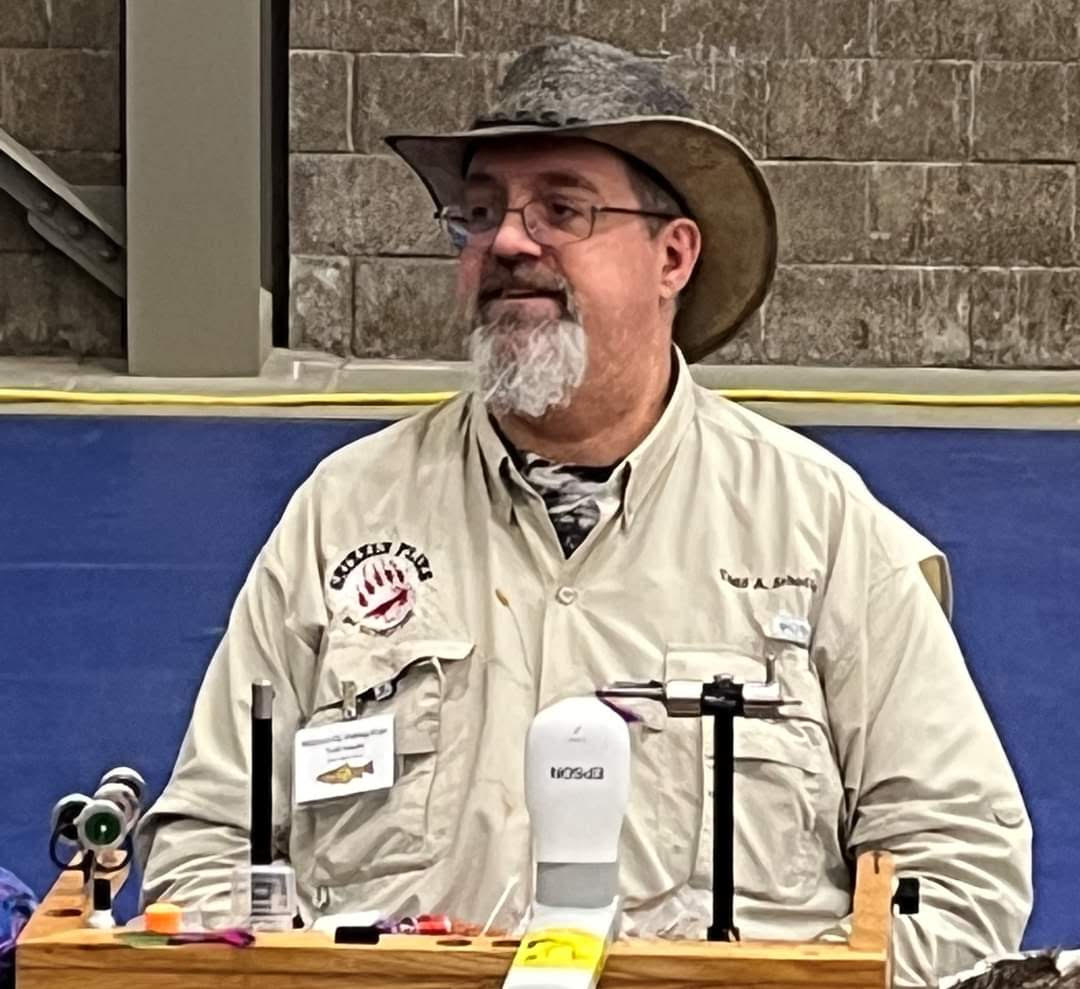 Todd A. Schotts is a custom production fly tier through Grizzly Flies by Schottsie located on Southeastern, Michigan. He is an active member of the Michigan Fly Fishing Club & Huron River Fishing Association.
In his tenure in the MFFC he has contributed "Fly of the Month" articles over 7 years and is still a contributing author since 2005. He currently chairs "Guest Tyers" for the Midwest Fly Fishing Expo, and "Featured Tyers" for the Activity Meetings; plus volunteers for various activities. In 2015 he was awarded the MFFC's prestigious Volunteer of the Year award.
In the Huron River Fishing Association he currently serves as the Club's President, Co-Chairs the clubs annual "Silent Auction" at the Christmas Dinner; and volunteers for various activities.
His original fly designs were published in 2 different articles in Eastern Fly Fishing Magazine in 2015. In 2017 five of his patterns appeared in the spring issue of Fly Fusion Magazine.
Todd is the founder of "Michigan Bobbin Slingers", a fly tyers page on Facebook that is dedicated to the art and craft of fly tying. You can catch him doing "Live Fly Tying" on Michigan Bobbin Slingers, Tying Videos on Nor-Vise (YouTube) or doing his PowerPoint & Tying Presentations across the Midwest.
His passion is creating new amazing flies, being a Bass Bum, chasing panfish in ponds & lakes, and chasing trout in spring creeks or headwaters of amazing waterways. He is a Nor-Vise Team Member, on the Pro Staff with Anadromous Fly Company and on the Pro Team for TFO Rods. You can contact Todd at [email protected] or at Grizzly Flies by Schottsie on Facebook or Instagram.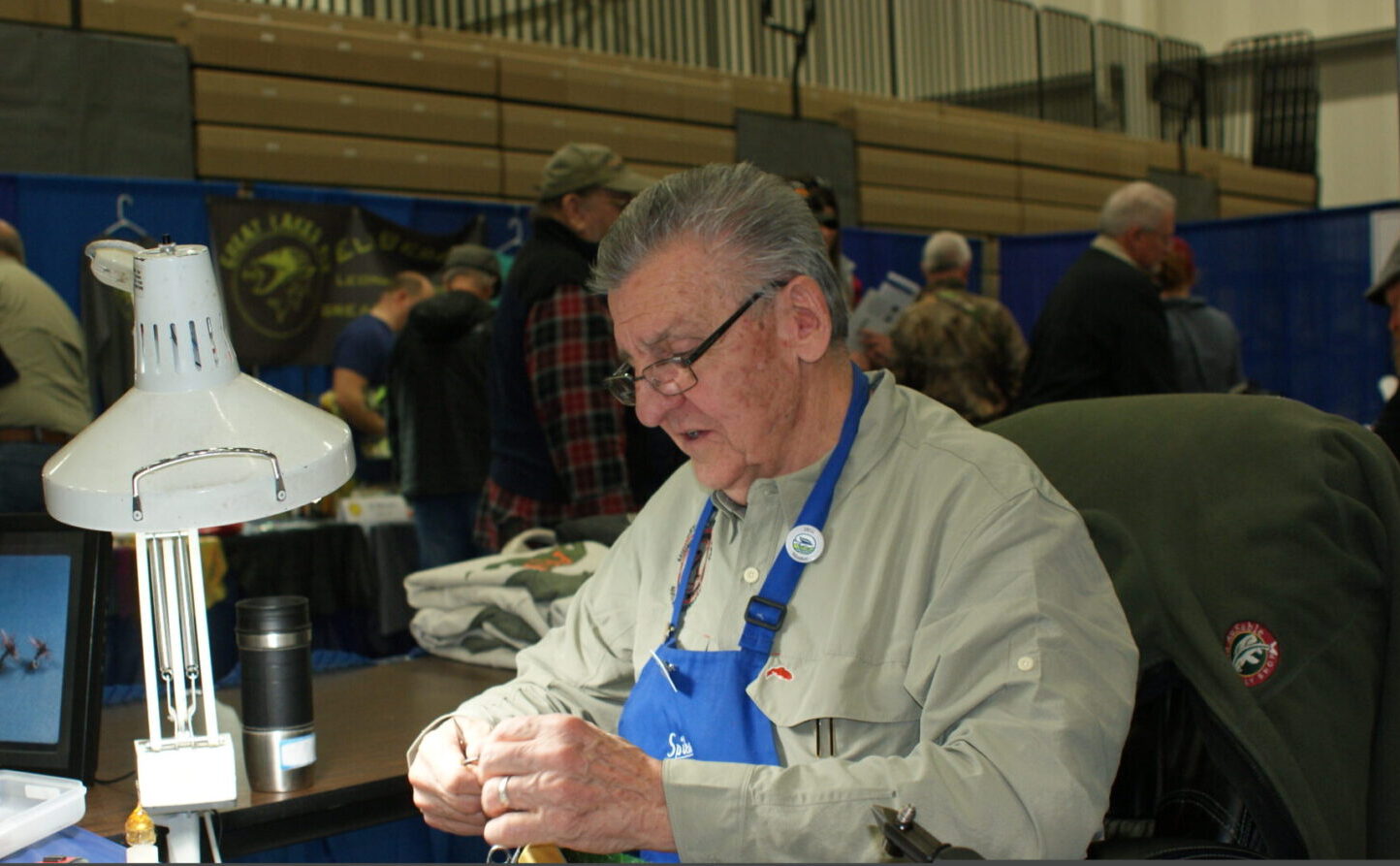 Jerry Regan, a third generation fly tier, is one of the true keepers of Michigan's Fly Fishing History and one of the best commercial fly tiers in the business. Just like Trout Unlimited, Jerry was born along the fabled Trout Waters of the Au Sable River near Grayling. As a kid he learned fly tying and fishing from Michigan's Genuine Legends like Earl Madsen and Ernie Borcher.
One unique thing about Jerry? He has never used synthetic tying materials (and never will). Jerry sticks with original materials that walked and flew around his Crawford County home.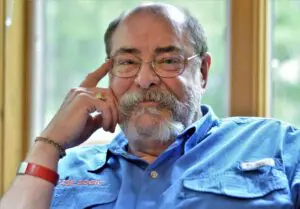 Dennis Potter started tying over 30 years ago before fishing on the Au Sable River in Northern Michigan.  He has spent 4 seasons at the Gates Au Sable Lodge as a Fly Fishing Instructor, he still enjoys teaching fly tying.  His fly designs are fished extensively and with great success throughout the U.S. Dennis does have various Fly Tying Videos on the market and he is the owner of Riverhouse Fly Company. 
You will be able to find him tying at the show with his well-known high resolution video tying Demo show. Dennis's web site is: www.riverhouseflyco.com.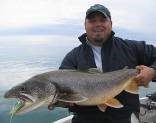 Eli Berant grew up and lives in Michigan, he has been surrounded by big water all his life. Eli received his first fly tying kit at the age of 15 - fly fishing and fly tying has been a passion of his ever since. Even though he really likes the "traditional" fly fishing experience he has taken the concepts of the huge saltwater flies and began to apply them to his exploits here back in the big waters in Michigan.
If you are interested in "Big Flies" for Lake Trout, Musky, Bass, or whatever will consume them. You can order these flies at Great Lakes Fly (www.greatlakesfly.com).
Tim Jacobs, a native of Michigan, is a fly fisherman and fly tyer from the Roaring Fork Valley.  He has guided in the Steamboat Springs area and the Roaring Fork Valley.  Additionally, he was a Federation of Fly Fishers certified casting instructor who taught the Sage Casting Clinics during the 1990's.
He works as an instructor at the Michigan Youth Trout Camp each summer and is a casting instructor for Project Healing Waters in western Colorado. Tim has published numerous articles and has authored 2 books "Tying and Fishing Deer Hair Flies" (2018, Stackpole Books) and his new book "Tactics for Bass and other Warmwater Species" will be out right before our show in March of 2023.
Tim appears at numerous fly fishing shows and fly shops as a demonstration fly tyer for Whiting Farms Pro Team, Regal Vise Pro Staff and Nature's Spirit Pro Staff.
Alan "Al" Ritt grew up in Michigan where his passion for fishing was born. In the early 80's while living in Northern California, just after he started tying flies, he started fly fishing. In 1989 he moved to Northern Front Range of Colorado where he and his wife Diana reside.
In 2022 he got the highest honor a fly tyer can receive. He received FFI's Buz Buszek Memorial Fly Tying Award. He is currently on the Pro-staff of Whiting Farms, PEAK Fishing, Flymen Fishing Company, Performance Flies, Clear Goo Glue, Fishing for a Cause, Performance Flies, Pro Sportfisher, Diiachi Hooks, and a fly designer for Montana Fly Company.
Al is on the board of IFFF Fly Tying Governors and is also a guide on Colorado and Sylvan Dale Ranch just outside of Loveland. Besides with everything above, along with his articles in various magazines, he also published a book, "25 Best Most Versatile Flies". Alan's web site is www.alrittflies.com.
John Satkowski resides in Toledo, Ohio, where he fishes for all fish that swim in the rivers and lakes of southeastern Michigan and northwest Ohio. An artist, fly tying demonstrator, and fly tying instructor, John shares his love of fly tying and fishing as often as he can.
John is an accomplished realistic tier and always tries to add a little realistic flare to his patterns. John is a pro tier for Flymen Fishing Company and a commercial tier for Rainy's flies with patterns ranging from dry flies, nymphs, steelhead, streamers, and flies for the salt. John's patterns often use creative fly materials and unconventional tying styles. You can find him at River Raisin Fly Company on YouTube or @ River Raisin Fly Company on Facebook.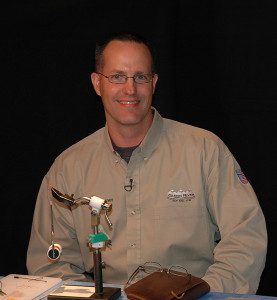 Glenn R. Weisner from Sylvania, Ohio is owner of Glenn River Fly Co. Ltd where they specialize in "Tying Kits". He has been tying flies since a 7th grade science fair project.  For the first 10 years, he was self taught and fished predominately for warm water fish.
Glenn was a personal friend of the late Chris Helm for over 20 years. Glenn attributes most of his tying capabilities to the information he has "stolen" from Chris's warehouse of knowledge and experience.
He is a tireless fisherman and often can be found fishing for trout on the cold streams of Pennsylvania, Wisconsin and Michigan. He has created or improved several patterns he finds invaluable for small stream trout fishing and enjoys tying most all trout flies, especially Terrestrials and Midges. His website is http://www.glennriver.com.
Bruce Derington took his first tying class in 1978 through a local high school evening course instructed by Hollis Holiday, and later through the Challenge Chapter of Trout Unlimited.
He has always been a Bass guy. After reading a Rod and Reel article written on Tim England (1985) on deer hair flies the rest was history. In the mid-90's Bruce became intrigued about Classic Atlantic flies. He enjoys sitting at the vise for the many hours it takes in construction of those. It's an endless road in search of the next pattern to tie.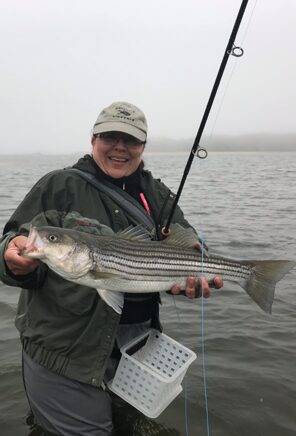 Cheryl Scherf, a school teacher in Cleveland Ohio, has been fly fishing and tying flies for seventeen years. She particularly enjoys tying striped bass flies, which she uses fishing the beaches of Cape Cod.  Cheryl also ties trout flies and enjoys stream fishing for trout whenever she can.  She has tied at several fly shows over the past several years.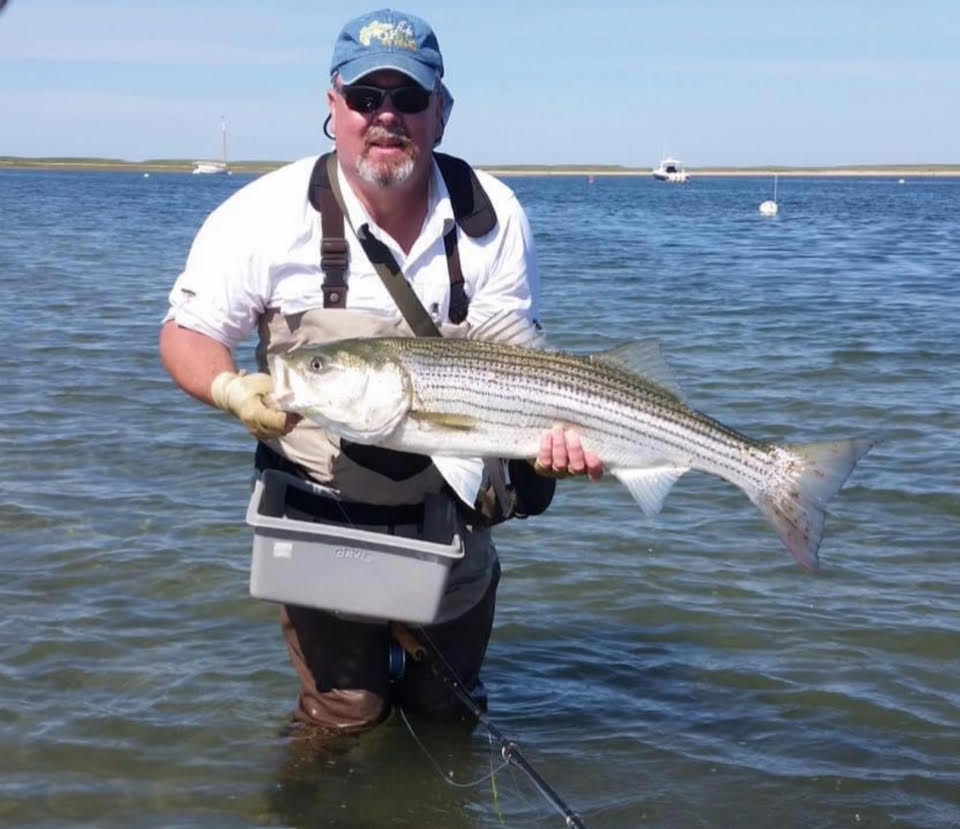 Kevin Ramsey, from Bellevue Ohio, is a retired a State of Ohio Wildlife Officer.  He is an avid fly tyer and fly fisher. He fishes for trout across the country and also enjoys fishing for stripers on the beaches of Cape Cod.
Kevin volunteers for Project Healing Waters Fly Fishing and Trout Unlimited projects. He has been tying flies for 43 years and ties both trout and saltwater flies. Kevin ties and donates flies to several organizations for their fund raising campaigns.